Well not just eczema cream. Also eczema lotion and ointment.

Basically anything that are good moisturizers for your eczema. Products you can use to keep your skin well moisturised and healthy. To help limit inflammation and infection.
They are all good dry skin care products. They all do a similar job.
Though not everybody will find them all effective in the management of their own eczema.

Each one is more suitable for certain areas of the body.
And each one is more useful in certain skin conditions.
To find out which one could be more beneficial to your eczema you can read some more information on each one
Eczema Cream
Eczema cream contain a mixture of water and oil. They are easy to apply, and absorb well into the skin. A good choice for using during the daytime, as they aren't greasy.
Some creams come in a pump dispenser. Because of the high water content of cream it is more prone to contamination.
With a tub of eczema cream you normally have to put your hands in to get some out. Or the lid may be left off. Either of these actions can cause bacteria to get into the cream.
The cream in a pump dispenser has no contact with your hands, and there is also no need to take a lid off.
One advantage of the high water content is that it feels cool on the skin. This can help to relieve itching.
Some eczema cream can contain ingredients that may irritate the skin. If any irritation occurs, stop using that product and try another. If the same problem occurs, look for an ingredient that is present in both products.
Creams are great to use in the bath or as a soap substitute. I have a tub by the bath to add to the water. I also have a pump dispenser on the sink, to use as hand wash.
The most commonly used product is Aqueous Cream.

Aqueous Cream
Comes in 100g tubes, and 500g tubs. Made by several different manufacturers.
It can be brought over the counter or be given to you on prescription by your doctor.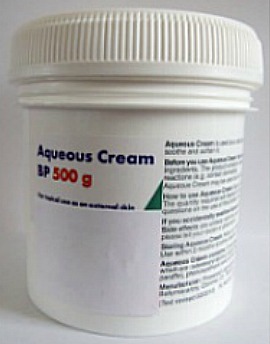 It is the most popular emollient given out by doctors.
This does not necessarily make it the best one for you or your child.
Recent reports have shown that it may irritate skin.
This is because it contains a synthetic detergent called Sodium Lauryl Sulphate (SLS).
It doesn't affect everyone. The irritation is quite often mild and short term.
Because of this it can be more useful as a soap substitute or bath additive.
It gets rinsed off and is diluted, so it is less likely to cause any irritation.
It contains no fragrance or lanolin.
Contains: White Soft Paraffin Liquid Paraffin
Some of the other creams available are
E45 Cream
Aveeno Cream – made with naturally active ingredients
Diprobase Cream – can also be used as a soap substitute
Balneum Plus – contains Urea and lauromacrogols
Ointment
Ointments are made from either mineral oils, like paraffin and petroleum jelly, or fats. They don't contain any water.
They are thicker than eczema cream and lotion. The drier your skin the greasier the treatment should be. If you hold a tub outside down, an ointment wont fall out.
You can buy some over the counter. Though if you use it regularly on a large area of skin, you might find it cheaper to get it on prescription.
The main property of ointments is that they help retain water in the skin. This makes it ideal to use on very dry skin. Also on areas of thicker skin, like on the arms and legs.
Their greasiness means that they are not popular with everyone. They can be a bit messy, and make clothing greasy. This makes them a better choice to use at night.
One advantage of them is that they don't contain any preservatives. This is because they don't have any water in them. Creams and lotions do contain preservatives. The water in these can make the product go off. The preservatives may cause a reaction to the skin.
I always have a tub of Epiderm with me. I use it regularly throughout the day. I find it isn't too greasy. It doesn't disrupt what I am doing, as it absorbs well in the skin. I use it on my hands and face mainly, where my skin is the driest. It does contain Sodium Lauryl Sulphate, so it wont suit everyone.
Two popular types of ointment are


Emulsifying Ointment
It is a mixture of emulsifying wax, white soft paraffin and liquid paraffin.
It is a heavy, thick emollient. It works well on very dry skin that is prone to cracking. Like on the hands.
Emulsifying ointment is water soluble so it can be used as a soap substitute.

White Soft Paraffin/Liquid Paraffin 50/50
Contains
50% w/w Liquid Paraffin BP
50% w/w White Soft Paraffin
It is a very heavy and very thick emollient. Works best on extremely dry skin.
It is very greasy, so best applied at night. A covering can also be put over it to help with absorption and help keep it off clothes and bed covers.
Some of the other heavy ointments available are

Some of the other very heavy ointments available are
Doublebase Gel
Diprobase Ointment
Lotion
Lotions contain the most water, and the least oil. They are very easy to use and absorb well. Though they are not as popular as eczema cream and ointment.
One good thing about them is that they cool the skin. This helps to relieve any itching.
They are the best emollient to use on hairy parts of the body, like the scalp. Not as messy as a thicker product.
Two examples of lotions available are

Oilatum Lotion
Comes in 200ml. It is part of a wide range of Oilatum products. This lotion is reasonably priced.
Active ingredients – Light Liquid Paraffin 3% w/w White Soft Paraffin 8.0% w/w
It contains fragrance, so irritation may occur.

Eucerin Intensive 10% w/w Urea Treatment Lotion
Comes in 100ml and 200ml.
It used to be known as Eucerin Extremely Dry Skin Treatment Lotion.
It is suitable for very dry, itchy and scaling skin. It is one of the products in the Eucerin's range. It is a little more expensive than some products but if it works for you then it is worth it.
It contains 10% Urea.
It is fragrance free, and colourant free.

Another lotion available is Dermol 500 Lotion. It is an antibacterial lotion, which is useful with infected or very damaged skin.
---
Alongside eczema cream, ointments and lotions, you can use a soap substitute and bath additive. As you may have read some of these products can be used for this but you can read about some products you can buy to use in the bath and shower.
Return from Eczema Cream to Eczema Treatments
Return from Eczema Cream to What is Eczema
Return to top of page