Oil of evening primrose, or evening primrose oil, or EPO, is a herbal extract that comes from the seed of the evening primrose plant. It's Latin name is Oenothera biennis.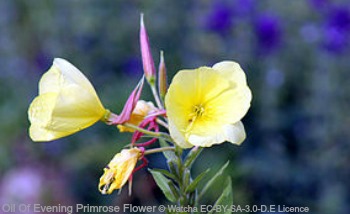 The plant is part of the willow family, although it gets it's name because of it's yellow flowers, that look like primroses. Also the flowers open in the evening.

Evening Primrose Oil Benefits

Evening primrose oil has been reported to have many benefits to our health. It has been said it can help with a number of ailments, including
Eczema
Premenstrual Syndrome (PMS)
Arthritis
Lowering Cholesterol
Alcoholism (making the withdrawal from alcohol easier)
It is thought to be beneficial because of it's properties.
It has a high content of Gamma Linolenic Acid, or GLA. GLA is a fatty acid which plays an important part in many of your body's functions.

Oil Of Evening Primrose Oil and Eczema
There have been numerous studies done on evening primrose oil's effectiveness on eczema.
Most studies have shown mixed results. Though this would probably be true of studies of any treatment. No treatment will benefit everybody. Though you may decide it is worth a try.
Because of one of it's properties, being a natural anti inflammatory, it could help with the symptoms of eczema.
It is not a quick working treatment. One study showed that improvements in eczema did not appear until 12 weeks after starting to take it. So patience is definitely needed.
If you decide to try it, you can buy oil of evening primrose in a few different forms

Capsules, taken orally. The most common dosage of capsules is 2 x 500mg a day. Though you could increase that to up to 6 x 500mg a day.
Oil, to put directly on your skin, or mixed in with other essential oils or your favourite moisturiser. Caution should be taken if using directly on your skin, as it is more likely to cause some skin irritation
Skin care products. Checking the product's other ingredients is recommended
You can buy evening primrose oil products from some chemists, and some good supermarkets may also stock a good selection.
If you would like a particular product, there are many websites that specialise in natural skin care products.

Cautions Of Use
Before using any evening primrose product, and especially if you use the oil directly on your skin, it is highly recommended to use a little bit on a small area of skin. This just makes sure that you don't have a reaction to it. This is especially true if you have severe eczema, or very sensitive skin.
Before taking or using EPO please check with your doctor that it is safe for you to do so.
There are rarely any problems with evening primrose oil, as it is natural. Though it is not recommended if you are pregnant or trying for a baby. Also if you suffer from epilepsy.
---
Oil of evening primrose oil is recommended because of it's GLA content.
Some other oils also have a good content of GLA.
Other good GLA supplements that maybe beneficial for eczema include
Blackcurrant Seed Oil
Safflower Oil
There are no definite studies on whether these can help with the management of your eczema. You could try them yourself to see if they improve your eczema.
Return from Oil of Evening Primrose to Eczema Treatments
Return from Oil of Evening Primrose to What is Eczema
Return to top of page