Calendula essential oil comes from the calendula plant. Also known as Garden Marigold or Pot Marigold.

The plant is found mainly in Europe and North America.
The oil is well known for helping with different skin ailments. Especially as it is a great natural anti inflammatory.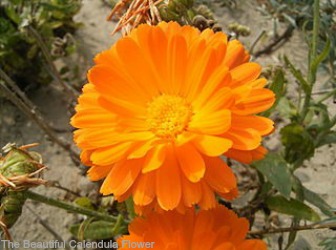 It has many properties that may help with the management and treatment of your eczema.
Anti-inflammatory. Can help reduce the signs of inflammation. A common symptom of eczema
Anti-bacterial. Can help reduce the amount of bacteria on the skin. Helping to lower the chance of your eczema becoming infected
Anti-septic. Helps to keep your skin smooth and supple. Helping to prevent further skin damage
Anti-itch. Can help to reduce any itchiness. This may also improve your sleep, especially if your skin is itchier at night

Uses of Calendula
Calendula essential oil can be used topically, to help manage your eczema, in a few different ways.
It can be used on it's own. As it is natural it is rare for any irritation to occur. But before you use it on a large area, use a little amount on a small area of skin. You will be able to see if the oil causes any reaction
Mixed with a carrier oil. This dilutes the calendula and enables it to absorb into the skin easier. It is best mixed with an essential oil that will also benefit your eczema
Calendula ointment, creams and lotions. You can either get shop brought products, or make your own. If you buy one from a chemist, supermarket or online, check the other ingredients in the product. Look for anything added that could cause an allergic reaction. If you decide to make a product at home you will know what it contains, and can make it as natural as you want
You can make your own calendula oil at home. You use the calendula flower. The Latin name is Calendula officinalis. They are infused, or soaked, in either olive or sunflower oil.
If you are going to use the oil to help with your eczema, then olive oil tends to be recommended. It is good for dry and damaged skin.

Side Effects

As the oil is natural it is rare to have any side effects, or for it to cause any irritation.
It is safe to use on children.
It is recommended to avoid using externally or taking internally, if you are pregnant.
---
As well as eczema, calendula can help with many more conditions.
It is definitely a multi talented essential oil. It can help with cuts, insect bites, burns, and a whole lot more.
If you have children, whether they have eczema or not, a calendula cream or ointment would be a welcome addition to your first aid box.
Return from Calendula Essential Oil to Natural Eczema Treatment

Return from Calendula Essential Oil to What Is Eczema Home

Return to top of page